6 reasons why designers love tupelo outdoor furniture
UNPARALLELLED DURABILITY
Constructed from premium marine-grade polyethylene using sophisticated rotational molding techniques make our furniture incredibly durable in the harshest environments.
shop line chair
SCULPTURAL, versatile DESIGNs
By embracing a design philosophy rooted in simplicity and informed by ergonomic principles, our furniture pieces achieve a sculptural quality that thrives in a variety of aesthetics.
Shop Loop Chair
ALL-WEATHER MATERIAL
Made of marine-grade polyethylene, our furniture is inherently waterproof and won't fade in the sun. Each piece is a unibody structure that ensures there are no components or hardware that will fail over time, even in harsh saltwater environments.
shop bask chair
easy to own
We aim to make owning our furniture effortless. Simply rinse clean with soap and water, or power wash for more stubborn stains.
shop deck chair
Stunning Comfort
Each curve and contour are intentionally designed with ergonomic principles to ensure a product that is as comfortable as it is beautiful. 
Shop loop chair
IN-POOL perfection
All of our pieces thrive on popular baja or sun shelves. Simply fill with water to prevent buoyancy. Please note maximum recommended depths for each style.
Shop with confidence
We take pride in the products we make and guarantee that all of our products will be free from defects in workmanship.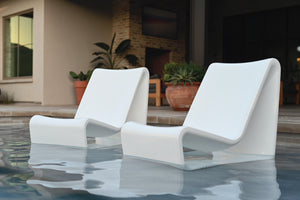 "Phenomenal chairs.
Last month we purchased our Loop Lounge Chairs to replace Ledge Lounge chairs. Comfortable, great size and exactly what we were looking for. You def won't be disappointed. Thank you Tupelo! Well Done"
- Maureen L. VERIFIED BUYER
Learn more
"The best of the best.
I can't say enough good things about Tupelo. In a time when customer service doesn't seem to matter as much to companies, Tupelo goes above and beyond. I have had the best customer experience with their team (shout out to Chris!). Their products are built to last, low maintenance, beautiful, and functional."
- Morgan C. VERIFIED BUYER
LEARN MORE